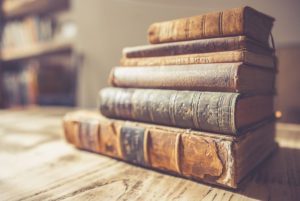 A brief history
The history of books started around 6000 years ago when the Egyptians delivered written messages using papyrus rolls. Some time later, the Greeks came up with the idea of writing on parchment. People wrote on wood panels and wax tablets but every piece of written communication was a unique copy, written by hand. It was laborious and tedious. Until one Johan zu Gutenberg revolutionized the book market by inventing moveable type in Europe in 1450, making books less expensive and more available.
People started reading, the number of illiterates decreased and soon entertaining reads were in high demand as well.
The first e-book was the US Declaration of Independence in 1971. Soon after, handbooks and manuals were given out on CDs. When e-Ink appeared on the screen in 2007, the e-book started its triumphant progress.
The mobile book
Deciding between a paper and an e-book is a personal preference. Studies have shown, that the e-books practicability increased the average daily reading time from 35 minutes to 45 minutes, whereas most people prefer to read e-books in bed and paper books on the sofa or in the bathroom. Unsurprisingly, reading is most holidaymakers favourite activity. However, they still are very fond of paper books, especially when it comes to travel guides.
Pros paper book
Fans of paper books will always mention the irresistible feeling of opening a book, smelling the paper and feeling the pages slide through their fingers, heralding the adventure to come. The same goes for entering a bookshop, filled with unimaginable knowledge and millions of lives. Some books have artfully designed covers and pages which only work on paper. You can also add your personal touch to a paper book and fill it with your own memories by using a postcard as a bookmark, for example. Reading a paper book simply satisfies the need for experiencing something beautiful with all your senses. It draws your attention away from a screen for a change and makes you focus on one single thing. When it comes to travelling, most hostels and hotels offer books for a book swap which makes for social interaction and adds a certain cozy feel to a temporary home. And on the practical side, paper books don´t need electricity!
Pros e-book
An e-book on the other hand is light and small, you can carry it in almost any bag, which is obviously a massive advantage when on the road. It makes no sound and brings its own light, priceless features when sleeping in a dorm! You can fit hundreds and hundreds of books into a single e-reader and most of them will be significantly cheaper than the paper version. If you can´t find the right book for your mood you can choose any story from a whole world of books right where you are, that is, if your e-reader is connected to the internet. E-readers usually come with dictionaries and search tools and you can select the font size for additional convenience. They will set a bookmark for you so you don´t have to go through the pages trying to find the right chapter again. And if you feel sneaky, it is a lot easier to hide your current read from your surroundings, at least in theory.
If you still feel undecided, there is nothing to be worried about! The great new is, most books are still available as paper and electronic version.